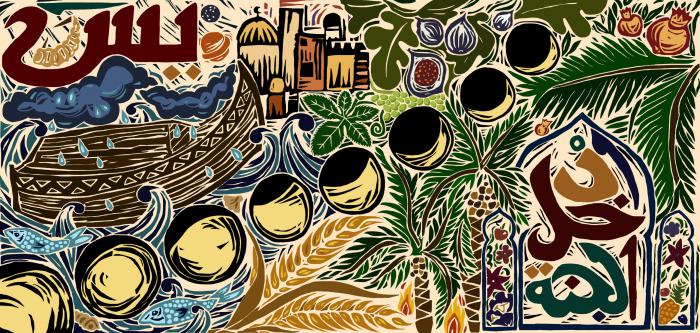 Welcome to Muslima: Muslim Women's Art & Voices, a global online exhibition from the International Museum of Women (IMOW), now Global Fund for Women. Muslima presents a groundbreaking collection of thought pieces and artwork from contemporary Muslim women who are defining their own identities and, in the process, shattering pervasive stereotypes. Explore work from artists, activists, and thought-leaders around the world, representing a broad spectrum of Muslim realities and identities, addressing such topics as Power, Leadership, Appearance, Myths, Generations, Faith and Connection.  
Muslima debuted online in March 2013 and ran through December 2013, with new art and stories added regularly. The exhibition will remain up and available for viewing online indefinitely. The dynamic exhibition design allows you to explore Muslima Content by Type, Topic, and Most Recent.
Experience our:
Art Gallery, which includes stunning individual art and photography pieces created by Muslim women and artists around the globe
Featured Voices, which presents long-form pieces that feature the diverse voices of thought leaders, artists, and activists working to make a difference in the world for Muslim Women
Topics explored in Muslima include:
Leave comments on stories that inspire or intrigue you to start a conversation and help us spread the word about Muslima by sharing the exhibition with your friends!
SUBMISSIONS
Muslima is no longer open for submissions. Please sign up for our e-newsletter to be notified about future calls for submissions, and to stay up to date with current campaigns from Global Fund for Women.
THE CAMPAIGN
The work and voices presented in Muslima is meant to inspire cross-cultural dialogue that will break down myths and stereotypes and build understanding. We offered audiences the opportunity to take action by joining our "Speak Up! Listen Up!" campaign to support the voices of Muslim women worldwide who are leading the movement for change and challenge misleading stereotypes that hold women back and foster discrimination and injustice. By September 11, 2013, more than 10,000 people signed on to the campaign!
MUSEUM PARTNERS and MUSLIMA AMBASSADORS
Through a Museums Connect℠ global museum partnership with the Sharjah Museum of Islamic Civilization in the U.A.E.; The Women's Museum in Denmark;  and The Ayala Museum in the Philippines, IMOW and our partner museums engaged a dynamic group of more than 40 creative young Muslim women to participate as Muslima Ambassadors. During a series of in-person workshops and global online dialogues, Muslima Ambassadors from four countries discussed  important issues facing Muslim women today in their communities and around the world, and are now sharing their own perspectives as advisors, contributors and co-curators for the project.
Meet our Muslima Ambassadors>>
Meet our Muslima Museum Partners>>

PARTNERS
We have partnered with organizations and media across the globe to spread the message of inclusion and equality that is central to Muslima: Muslim Women's Art & Voices. Learn more about the work of our incredible partner organizations>>

DIALOGUE TOOLKIT
We have provided a dialogue toolkit for use by schools, individuals and organizations as a way to extend the dialogue into your communities. It includes a downloadable discussion guide and other tools to get the conversation going! Download it here>>
 
ABOUT GLOBAL FUND FOR WOMEN
The International Museum of Women (IMOW) merged with Global Fund for Women in 2014. You can read more about the merger here.
Global Fund for Women is one of the world's leading foundations for gender equality, standing up for the human rights of women and girls. We campaign for zero violence, economic and political empowerment, and sexual and reproductive health and rights.
We fund and partner with women-led groups who are courageously fighting for justice in their own communities. This rights-based approach gets to the root of gender inequality and is the most effective way to create permanent social change.
We're a public foundation and rely on the generosity of our donors to support our critical work in the fight for gender equality. We use our powerful network to rally advocates, raise money, and get support to where it's most urgently needed.
We're an unstoppable global community of over 20,000 donors, 2,000 advisors, and 500,000 advocates. Since 1987, Global Fund for Women has invested in nearly 5,000 grass-roots organizations in 175 countries, helping to win rights for millions of women and girls.
PRESS
For press releases, images and media contact information please visit the Muslima media page.
CONTACT US
Global Fund for Women
Mailing address:
800 Market Street
Seventh Floor
San Francisco, CA 94102
Phone: 1.415.248.4800
Fax: 1.415.248.4801
Email: advocacy-info@globalfundforwomen.org