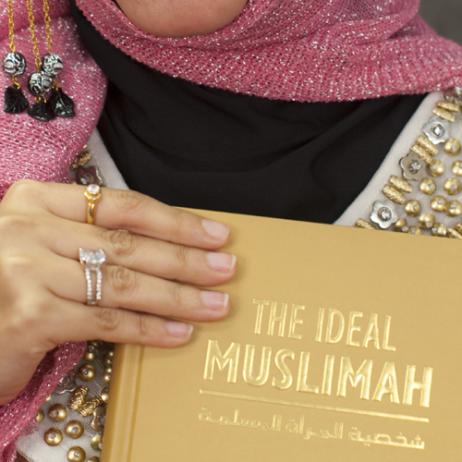 Back Story…
My name is Dian Harumi Paramita. I am an MBA (Master of Business Administration) graduate from Edith Cowan University-Australia majoring International Business and Marketing Management. I am an Indonesian with half Javanese-Chinese blood. I have lived in Indonesia and Singapore, and currently I reside in California, USA. As a woman who wears a hijab, I believe that the hijab is representing my love to Allah SWT. Hijab is my beauty crown. Hence the hijab is my true identity as a Muslima at heart. Since my childhood I have loved singing, modeling, and presenting. Alhamdulillah, Allah SWT is giving me the opportunity to be an International Muslimah Photo model. Mostly, my Muslim Modeling activities are in New York City, Los Angeles, San Francisco, Singapore, and Indonesia. I am also a Singer and Hijab Fashion Stylist. With Allah SWT's blessing, I am about to launch my own Fashion design business called Pinky-Hijabi store. From my perspective, a woman who wears a hijab will be more beautiful and still look fashionable too. Aside from that, I am working for an IT company in Silicon Valley, USA. I am passionate about education. I do volunteer work for education funding, and believe that education is a powerful tool to change yourself and the world.
Dian Harumi Paramita is an International Muslim Model, Singer, and TV presenter from Indonesia, which is fast becoming the Paris of Islamic fashion with its robust Islamic fashion industry.  This is easily reflected in Dian's creative hijabi ensembles, which she styles herself.  Dian earned her MBA at the University of Adelaide and Edith Cowan University. With her passion in business and art, Dian will launch her own design for Pinky Hijabi Store.  Dian's modelling engagements include New York Fashion Week 2012 and her modeling activities mostly in New York City, Los Angeles and San Francisco.  Visit Dian Harumi Paramita for her artwork and Pinky Hijabi Store at www.dianharumi.com also follow her at twitter.com/harumidian.
Dian Harumi. P is a Muslima Ambassador.