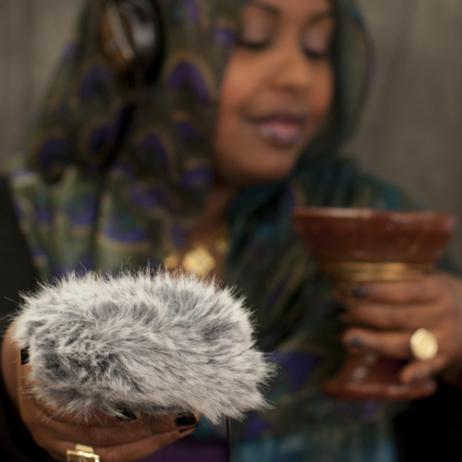 Back Story…
A letter to my radio audience, from Hana Baba

Dearest listeners,

My job is to report all truths, and help bring you art, issues, struggles, celebrations, voices, and realities that may be other than your own; foreign to your realities.

And I often wonder, as you hear me through your speakers, talking with local activists or chatting with artists or thinkers, how do you imagine me in your mind? How old am I? What do I look like? I could be any color, any race. I have no "accent." My name - it can be Nigerian, or it can be Japanese. All you have is my voice. You can't see me. You can't see the bright purple scarf around my brown face. You can't see the traditional ring I wear. You can't smell the bakhor or sandal essence on me. You can't see the flowered henna on my hands and you can't feel my thirst when I'm fasting or detect the mastic gum on my breath when I'm not. And, in my world, this world where I am invisible to your eye but vividly visible to your ear, to your mind, to your soul--it all doesn't matter. For once, it all doesn't matter. On the radio, it all disappears and doesn't matter. What I look like is irrelevant. I may be black, I may be a Muslima, I may be Sudanese, but all you hear through the speakers is me.

We, together, have been able to bypass the labels with all the emotions, impressions or kneejerk reactions they could have stirred up. You see me through my conversations. You allow me to enter your cars and living rooms and kitchens with intimate discussions about the human experience- about joy and learning, about struggles and faith, about music and health and school and poverty- because like me, all you really want is to hear the story. That universal desire to connect with another human being- without even seeing them. That, to me, is true freedom.

Yours in Love of Radio,
Hana
Hana Baba is a Muslima Ambassador.
About the Author
Hana Baba is a San Francisco Bay Area radio personality. She is a reporter and co-host of Crosscurrents, a daily radio newsmagazine that broadcasts on KALW Public Radio 91.7FM in San Francisco. Her interviews and reporting range in topics from ethnic community issues, poverty and health to culture, religion, politics, and the arts.  
On a national level, Hana does freelance writing and her radio work has appeared on various NPR programs, and PRI's The World.   A Sudanese-American, Hana also reports from and about Sudan and Sudanese communities, and is currently the Secretary of the Sudanese Association of Northern California. She is working on a bilingual Sudanese folktales book for children. Hana regularly emcees at benefits and events around the Bay Area, and moderates panel discussions on local media and journalism. She also is a bilingual English/Arabic voice-over talent, and is the voice of the audio tour of the San Francisco Museum of Modern Art's permanent exhibit.
Take a glimpse of her radio work at www.hanababa.com and here