NPR radio host Haba Baba shares the story of an Iraqi refugee on what it was like living through the Iraq War.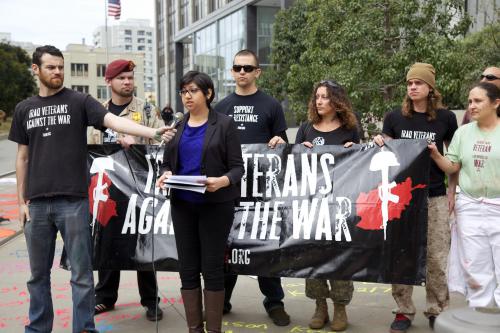 Part of my job as a radio journalist is to bring to the air diverse stories and helping listeners make a global connection when they listen to our show, Crosscurrent, the evening newsmagazine on KALW Public Radio in San Francisco. We call it our "glocal" focus - locally heard, but global in subject matter. And when I seek out stories, naturally because of my Sudanese/African/Arab background, I'm drawn to telling stories and bringing light to issues and projects that reflect those cultures; cultures the American audience knows little about other than in contexts of war, famine, poverty, and backwardness. I see my role - my responsibility - is to say, yes, they have all those things. But that's not all. And those saddening, angering, stereotypical stories shouldn't define the people. There are countless other stories of the people who live in, and come from those parts of the world and other parts of the 'undercovered' world that need to be told. Uplifting stories. Touching, Inspiring stories. If these were told as frequently as the negatively themed ones, I believe we would have a very different socio-political landscape today. Relating to another human being on an intimate level - like through a radio story- makes for  better understanding, and eventually better world.
As a daughter of Sudanese immigrants, I am specifically fascinated by the issues of people who emigrate or seek refuge from "developing nations" - how they come, how they adapt to this new culture, how they express themselves creatively, what their challenges are, whether they change, how they worship, play, eat, make art, raise their children and preserve their cultures in this new land and how they reach back home and connect to their homelands. The San Francisco Bay Area, where I live, is a place where you don't have to look too hard to find fodder for that kind of deeper, more engaging journalism.
For me, it helps to have the advantage of being able to observe these issues as an insider, avoiding stereotypical references and conclusions, and exploring them with complexity rather than the predominant (and rather convenient) simplistic coverage most mainstream media outlets offer. In regards to women, I like to explore avenues of empowering them on their terms, and what immigrant women can offer and add to the American culture and society to enrich it. The effects of the immigration experience, to me, are not a one-way street. Both the emigrant and the host country have much to gain, learn, and appreciate from each other.
So, when we were planning an Iraq War 10 year commemoration show on Crosscurrents, we knew we wanted to focus on people whose voices really haven't been heard in the American media coverage - the Iraqi people and Iraqi refugees. Their stories were harrowing, touching, and necessary to hear. And they weren't being heard prominently anywhere else on the airwaves. After this show aired, we received numerous emails and calls by listeners who said they had connected personally with all the voices, especially that of Farah Almousawy, an Iraqi refugee whose story was featured throughout the show. People connected with Farah's story so intimately, we ended up performing her story as part of our live storytelling stage show, Heard Here from KALW.  This is why I make radio.