To some, the Arab Spring uprisings seem so monumentous, so large in geographic range, that they can be incomprehensible. In this essay, Yemeni journalist Atiaf Zaid Alwazir illuminates a single day of conflict: a sad yet inspiring day in Change Square in Sana'a, Yemen.
On May 11, 2011, I woke up to a phone call about a march to the presidential palace in Yemen's capital, Sana'a. As the time for the march approached, I headed to Change Square, where the pro-democracy protesters are camped.
There, I heard an array of bullets. Someone informed us that the bullet sounds were coming from the blood bank, where thugs and men in security clothes had cornered the protesters and began shooting at them.  It continued off and on for three straight hours.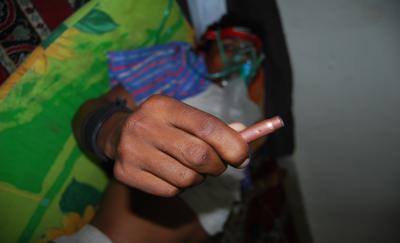 I called my friends at the march, but no one answered. Then I text messaged my husband to tell him not to join me at the square as he had planned earlier. "They are shooting near the entrance of Zira'ah. Please don't come now."
I went to the field hospital.  Minute by minute wounded were brought there by heroic volunteers. Some were shot in the leg, others in the arm. The fact that they still survived after the way they were transported is miraculous. Every time there was an attack the field hospital turned into chaos. There was a shortage of both equipment and medics. Often too many people were surrounding a victim, and of course the hygiene situation was unimaginable. Some of the wounded surely died from a simple infection.
Suddenly I saw a young boy wearing a helmet that was bigger than his head. His eyes were full of tears, his body frozen in shock. It seemed that he did not know what to do or where to go. I asked him, "Habibi, why are you here? Maybe you should go outside?" He looked at me but couldn't speak. Later I found out that he had helped to bring in his brother, who had been struck by a bullet in the leg.
Most had been shot in the head. The martyrs were usually lined up on the floor, with name tags in order to help human rights advocates to document them, and to enable media to enhance their reporting. Journalists and photographers often crowded around the bodies. It felt too intrusive but had to sometimes do it as well.
This was not the first time I photographed a dead body. I'd become accustomed to it since the start of the revolution.  With time, I became desensitized to it.  We were forced to disconnect from our own bodies and our emotions to continue. Our bodies cooperated with us for some time, but after months of repeated neglect, our bodies decided to take a sudden full stop, and whether we liked it or not, we broke down.
After I had collected the names of all the martyrs and most of the injured at the field hospital, I was asked to accompany a father to another hospital where he will identify whether the 14 year old dead boy is his son.
I was introduced to the father, Mohammed Al-Okairi, a man in his early forties. His eyes were in between life and death. I wasn't sure what to say to him, since small talk wasn't exactly appropriate.
The father, two medics, and I entered the ambulance. On the way to the hospital we picked up the boy's grandfather. When we arrived, hospital officials directed us to the morgue. It felt like an eternity listening to the hospital staffer rummage through his keys while the father waited patiently to find out whether his own flesh and blood was truly killed. That must have been the longest ten minutes of his life.
As we walked into the morgue the father's hands were shaking. A white sheet covered the teenager's body. The medic slowly pulled the sheet back. The father looked at his son and, after seconds that felt more like hours, he said in a very low voice, "It's Abdul-Rahman." The grandfather yelled Inna lilah wa inna ilaihi rajioon! (We all come from God and we will return to him!).
I froze. I wasn't sure what was appropriate to say or do. I was supposed to ask the doctor some questions, but my eyes were fixed on the teenage body. I collected myself, put my strong face on, turned to the doctor, and asked him some questions regarding the wound, time of death, age of the martyr, and so on.
As we stepped out, the father began to cry and the grandfather hugged him, ironically underneath a large photo of then President Saleh.  I wanted to cry with them, I wanted to scream, but I held myself together.
During our trip back to the square we had one extra passenger: Abdul-Rahman, the fourteen-year-old martyr, was lying in front of us. His bullet wounds no longer bled and did not stain the clean white sheets that covered him. I felt a chill wondering whether Abdul-Rahman's spirit was with us. Was he looking down at us now?
At the square, I saw my husband in front of me and I gave him a long hug. Two of my journalist friends were with him. They were unharmed but shaken. Minutes later we were told that that many entrances to the square had been blocked. There was now only one open entrance.  We wondered if the square would be attacked.
 Not knowing what to do, I said "I need a cup of tea." We sipped tea under the sound of gunfire in the square. It felt surreal. Then because I had to upload the photos immediately, and my contact list was in my computer at home we decided to go home through the only open entrance. By the end of that day, May 11, thirteen people had died and hundreds injured. 
As my mentor explained to me once in an email, "Progress is painful, costly, and slow." No matter the situation, the determination of a people seeking freedom is an unstoppable force: sooner or later freedom will prevail. The situation will not change overnight, but the revolution planted the seeds. It is the first step of many.
The following is an excerpt from Demanding Dignity: Young Voices from the Front Lines of the Arab Revolutions. Copyright © 2012, I Speak for Myself, Inc. Reprinted with permission from White Cloud Press.